Fetishes come in all shapes and forms. Some people have erotic tendencies, others enjoy more heavy-handed BDSM themes, and then there are the people who fetishize people wearing fursuits. While it's not hard to imagine people being able to make a fetish out of anything, fursuits are specific in that they represent an anthropomorphic original character which has many animalistic features, like tails. Because these fursuits and "fursonas" sometimes boost the wearer's confidence, it's easy to see how they could develop a fetish in the fursuit wearing community. In this article, we'll explore the definition of fursuits, their history, as well as the appearance of adult fursuits as a fetish.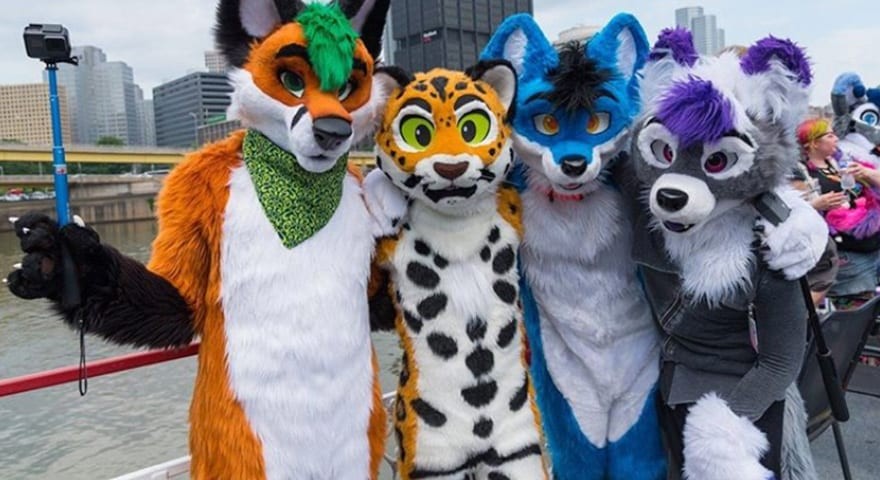 Definition of "fursuit"
Fursuits are original character costumes made and worn by people who call themselves "furries". The costumes are custom-made, and they are supposed to represent the original character that the person wearing it has made up (also known as a fursona). Although most people associate all furries with fursuits, most don't have a custom suit that they enjoy wearing, and instead they usually satisfy their needs through an online fursona and digital artwork. That being said, there are furries out there who don't feel like a digital representation is good enough, so they turn to creating their own custom fursuit.
So all fursuit wearers (AKA fursuiters) are furries, but not all furries are fursuiters. The main aspects of a fursuit character is that it needs to be anthropomorphic and it needs to represent an original character. While most fursuiters have only one costume, some dedicated members of the fandom might have dozens of suits that represent different characters that they have created. The costume itself first originates as digital artwork and that same artwork is then used as a reference sheet when creating the fursuit itself in the production process.
History of fursuits
The first concept of a fursuit, although the term wasn't created at the time, can be seen all the way back in the year 1947. It could be seen that Edwin Corle's "Three Ways to Mecca" included a fursuit in the plot of the story in the form of a dog costume. That being said, furries did not emerge as a fandom until the 1970s. That's when the fandom started to appear in underground comix movement. At this point, the entire fandom was based around art, and it wouldn't be until 1986 that furries started to meet up at conventions. First at BayCon and Westercon science fiction conventions, and then as their own organized event in the year 1989 known as ConFurence.
It was at the conference in 1989 that the first official fursuits could be spotted, but they still wouldn't become widely known and popular until the rise of the internet in the 1990s. In the beginning, fursuits were made by amateurs who crafted them using guides that they would share with each other throughout the community. However, in the middle of the first decade of the 21st century, they became so popular that businesses started to pop-up that would create, and even design fursuits for clients.
After that burst of popularity, the business started turning millions of dollars every year from fursuit sales, but it should also be said that sporting organizations also started to commission these businesses for the creation of original mascot characters that would be created in the style of a fursona, rather than the classic mascot look and feel that most sports fans are used to. Needless to say, the community is growing to this day, and even though only 15%-20% of furries actually own a fursuit, the number of people willing to delve into the hobby is increasing at a rapid rate.
Adult fursuits as a fetish
Although there is a general thought in society that all furries are into the fandom for sexual reasons. This is not the case. In actuality, you can look at the fandom like a spectrum. It goes from completely innocent to hardcore fursuit sex. However, while the extremes on both sides exist to some degree, most of the people who are part of the furry fandom, and more specifically fursuiters, fall somewhere down the middle of the spectrum. Most of the people who own fursuits also love anthropomorphic porn art and pleasure themselves to it.
In reality, fursuit sex is a lot harder to pull off than it seems. While it's easy to enjoy the art and to be sexually attracted to people in fursuits, actually having sex in the costumes is really difficult for a multitude of reasons. For example, one of the reasons is that most fursuits just aren't made to accommodate sexual intercourse. It's impossible to have sex in these costumes because there is no adequate hole that you can use on the side of both parties. Another difficulty arises from the fact that fursuits can get really hot while you wear them, so it can be tricky to have sex in them because of that.
Finally, on a more basic note, most people who do own a fursuit don't want to stain it with bodily fluids because the costume costs a lot of money. So people who do engage in fursuit sex actually create custom suits that are a lot easier to wear, don't heat up the body as much, have the appropriate holes and features, and aren't that expensive in the first place.
Adult fursuit fetishes are quite common with most people who are in the furry fandom, that's hard to deny. You can see a lot of flirting between two fursonas as they talk with each other. It's obvious that some sort of sexual tension and sexual fetishizing is present. However, actually having sex while wearing the suits can prove like too big of a task for most owners of these suits, so most only like to fetishize each other from afar. On the other hand, furry porn is a lot more popular with these people more so than fursuit sex, since it's simpler.
To know more about this topic visit the Murrsuits Gallery